Mar 11
Are you at risk?
54% of thermal fluid-related fires and explosions are due to poor system maintenance.

The risk of fire and explosion relates to the fact that thermal fluid systems' operating temperatures are typically higher than the closed cup flash point of the thermal oil within – the minimum temperature at which, in the presence of a source of ignition, such as electrical sparks or pump failure, a fluid's vapours will ignite.
Before risk items can be managed, they must firstly be identified and then acknowledged. Successful risk identification requires a degree of common, industry and expert knowledge.
It is absolutely vital to establish and trend fluid condition through regular, representative sampling and accurate analysis.
That's where Thermal Fluid Solutions' PACT Partner Programme can help.
By joining up as a Partner with Thermal Fluid Solutions, you benefit from access to a team of industry experts, able to offer your business a range of related site services, fluids and consumables on a global scale.
PACT was developed to help manufacturers protect their assets and ensure production reliability, at the same time as minimising the risk of fire and explosions associated with the operation of the thermal fluid systems which transfer heat around manufacturing plants.
By introducing PACT manufacturers can minimise this risk, as well as reducing system inefficiency and breakdown. At the same time they can achieve and maintain compliance with health and safety legislation such as ATEX (Atmosphere Explosible), DSEAR (Dangerous Substances and Explosive Atmospheres Regulations) and PUWER (Provision and Use of Work Equipment Regulations), helping to protect their assets, ensure operational efficiency and minimise their insurance premiums.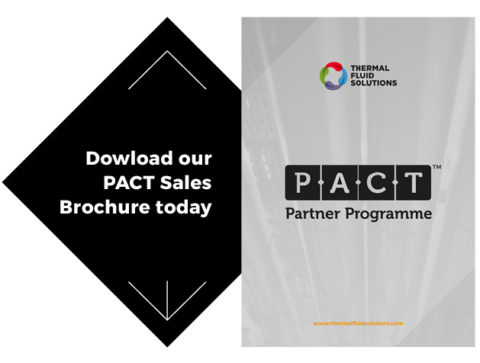 Contact the PACT Team today on +44 (0)1298 815 862 or Click Here